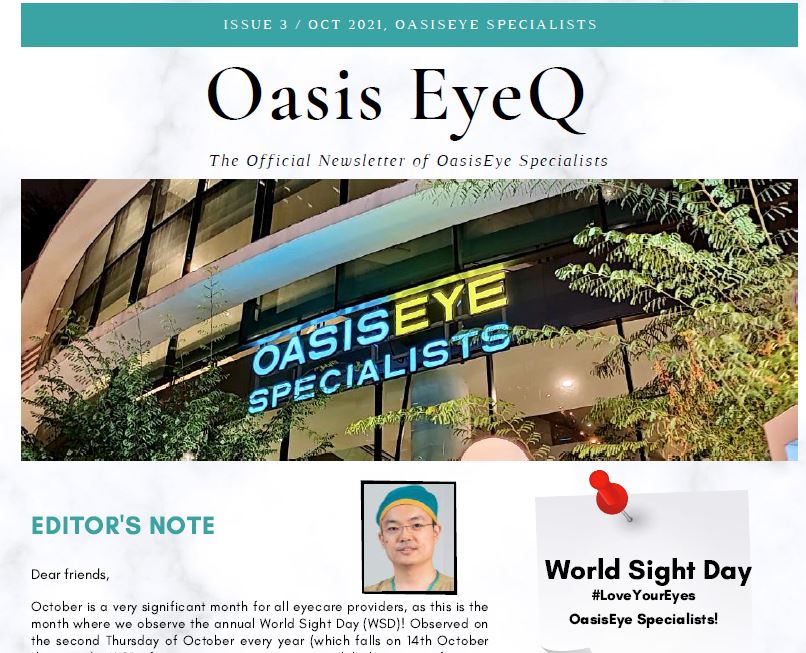 October is a very significant month for all eyecare providers as we observe the annual World Sight Day, which falls on the second Thursday of every October. The theme of this year's World Sight Day is "Love Your Eyes", as we all should. In September, we concluded our National COVID-19 Vaccination Centres at our Kuala Lumpur, Seremban and Johor Bahru branches, and have successfully administered over 9,000 doses of vaccines. We would like to publicly thank everyone who contributed, including our nurses, doctors, optometrists, and volunteers.
We also welcome two new team members to the OasisEye family – Mr Dharan and Ms Vinodhini, who are our ocularist and low vision specialist respectively. In this edition of Eye Q, we talk about an unfamiliar topic to most – Ocular Prosthetics or artificial eyes.
We also announced the winners of our World Sight Day Photography Contest. Congratulations to all winners!
Do stay up-to-date by subscribing to the Oasis EyeQ newsletter. Find out all about the latest eye-related topics, news and events.