Transepithelial Photorefractive Keratectomy (TransPRK) is a touch-free laser eye correction for refractive errors such as short-sightedness (myopia), long-sightedness (hyperopia) and astigmatism.
To date, the touch-free, single step TransPRK can only be performed with SCHWIND Amaris laser. With other lasers, two laser steps are required to perform TransPRK, one to remove the corneal epithelium and then to perform the refractive correction. Unlike the other refractive surgeries, TransPRK is the new one-step incision free procedure. The SCHWIND Amaris laser removes the epithelium and treats the refractive error without suction, flap or blade. This touch-free procedure is non-invasive, safe and gentle to the eye. The result of this technique is higher quality vision and faster healing.
Laser is applied to on the surface cornea epithelium.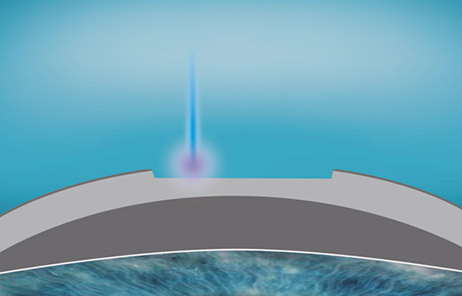 Laser is continuously applied to correct the refractive error.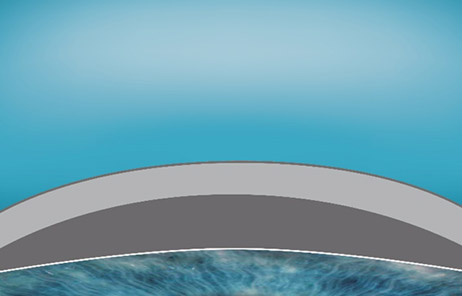 The resultant cornea is flatter, thinner, and refractive error is treated.
TransPRK is the newer version of Epi-LASIK. In Epi-LASIK procedure, a fine blade is used to remove the corneal epithelium cells. Due to the advancements in technology, TransPRK surgery can now offer patients a one step, no touch procedure with the use of the SCHWIND Amaris laser. Using the TransPRK, the surface epithelial cells will first be removed with the excimer laser, and then proceed immediately with the same laser to reshape the cornea for the refractive correction. TransPRK is safer, more accurate and gives consistent predictable results.
After surgery, eye drops will be prescribed to aid in the healing and to prevent infection. A special contact lens is worn to promote healing and protect the cornea as well as to minimize the discomfort. The epithelium will heal in usually 3 to 5 days and once the epithelium is healed, the contact lens is removed to prevent mucus and bacteria from sticking onto the contact lens. TransPRK is able to provide long term vision correction for a wide range of refractive errors. Patients no longer have to rely on their glasses or contact lenses for clear vision. This procedure is suitable for those who are above the age of 18 and with a stable eye refraction ('power').
Benefits of TransPRK
1. Corrects vision without the need to cut a flap on cornea and without a blade
Treatment for TransPRK is done directly on the upper surface of the cornea. Hence, there are no cut or flap-related complications as compared to LASIK. TransPRK has been introduced as a form of laser surface ablation and it is non-invasive. It is a no blade surface based procedure so it is a safer procedure that is suitable for almost everyone.
2. TransPRK can be the second chance for patients with thin cornea or patients who have had complications from other refractive surgeries.
If you have thin cornea, you may already have been rejected for the LASIK procedure. TransPRK can be your second chance to regain clarity to your unaided vision. Scars from LASIK and Epi-LASIK complications can be treated with TransPRK. TransPRK is ideal and recommended for many cases of enhancement even in previous LASIK and Epi-LASIK.
3. Fast
TransPRK is done in just one step procedure. The epithelium is removed and the refractive correction is performed in a single laser step. The shorter the treatment time, the risk of corneal dehydration is minimized, resulting in a lower risk of post-operative dry eyes. Due to the small wound area, the healing process is faster than the older methods.
4. Versatile
Due to its tissue saving laser profile, TransPRK is suitable for almost all laser refractive candidates wishing to see clearly. It is ideal for active and athletic people and for professions where sharp vision is needed.